It's time for the Crazy Cooking Challenge and this month the challenge was to find another blogger's recipe for Grilled Cheese and make it and blog about, posting it TODAY! I was so sad because I forgot … until Tina said I have all night to make one and get it posted! So yes, I'm in a bit of a scramble to make my sandwich, but I found the PERFECT recipe …
It's one of my favorite favorite soups … but in a sandwich! Ooh yes! Beer & cheese! What could be better? and OMG this is some serious goodness on a sandwich. Heaven on bread …
I should have known, but wasn't quite prepared for the sweetness of the onion, which, since I didn't have any beer bread, I caramelized in dark beer. The combination of that sweetness with the spicy garlic peppercorn mustard I used & the sharp cheddar cheese and then that crunch factor from the toasted bread. I just wasn't ready for this taste explosion, even after sampling quite a few of the onions as I cooked. I grabbed a Leinenkugel Creamy Dark for this … one of my favorites from Leinenkugel.
Grilled Beer Cheese Sandwich
Adapted from Honest Fare
Thinly sliced yellow onion (I cut up the whole onion, since I know how much they cook down when you caramelize them)
1/2 cup dark beer
Olive oil and/or butter
Worcestershire sauce
Salt
Freshly ground black pepper
Some fresh oregano (I used several sprigs from my little plant)
Beer bread … but I don't have any beer bread! So I used French …
Sharp cheddar cheese
Garlic Peppercorn (or Dijon) mustard
Directions:
Heat a frying pan over medium heat, add about 1/2 teaspoon of olive oil and swirl around to coat the bottom of the pan. Add the onions and cover to cook for a minute or two.
Uncover the pan and stir, stir, stir. When the onions start to brown and stick to the pan, add a splash of beer, cover for a minute, then uncover and stir until the beer is evaporated. Add another splash of beer and do that whole thing again. I did this four times.
Once the beer is gone, add a splash of worcestershire sauce and continue to cook and stir those onions until they are totally limp and caramelized. Season with a little sprinkle of salt and some freshly ground pepper and fresh oregano leaves.
Spread one side of bread with a thin layer of mustard, cover with sliced cheese, a healthy pile of onions, then more cheese and the other side of bread.
Heat a clean pan over medium-low heat and add about a teaspoon of butter and a teaspoon of olive oil to coat the bottom of the pan.
Set the sandwiches in the pan, cover and cook for just a few minutes till brown on the bottom, then flip, cover and cook for a few minutes till brown on the other side and the cheese is melted.
Enjoy! It's best with a cold, dark beer, of course!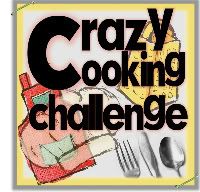 This post is part of the Crazy Cooking Challenge, Powered by Linky Tools
Click here to see all the other great Grilled Cheese Sandwiches in the Cooking Challenge!
This recipe was also shared at Totally Tasty Tuesdays, Tuesday Talent Show,  Cast Party Wednesdays, Tastetastic Thursday and Newlyweds Recipe Linky.
---
I've been eyeing all the beautiful Caprese sandwiches online for so long, waiting for the day when I had a fresh garden tomato to make one.
So I have a funny story to tell you. Last fall I had a potted tomato plant that wasn't finished making tomatoes when the frost came. I brought it inside so the tomatoes could keep growing on the vine. It kept growing all winter long and I kept watering it … I mean, why not? It was a beautiful thriving houseplant. And when the days started getting longer, it started blooming. I didn't have any bees to pollinate the flowers, so I tried hand-pollinating the flowers with my fingers.
The most amazing thing happened. Two tomatoes actually started growing! One of them has already ripened. It was pretty small and ugly and kind of dense and tough … but when I cut it open? Oh my … it put the store-bought tomatoes to shame. It had so much flavor it almost tasted like a sundried tomato.
So I decided it was time to give the Caprese Grilled sandwich a try. I had to supplement my little fresh tomato pieces with some store-bought tomato slices, but oh man, these sandwiches are to die for.
I think these little Caprese sammies would go well with either a soup or salad on the side. I had mine with a cup of mixed fruit topped with a few toasted walnuts. (I had SUCH a hard time waiting to eat them …)
Mini Caprese Grilled Cheese Sandwiches
French rolls (or french bread), sliced thin
Pesto (I used the Basil Lime Pesto I made last summer and froze)
Fresh tomato, sliced thin
Fresh basil leaves
Sliced or shredded part-skim mozzarella cheese
Butter or light butter spread
Directions:
Spread one side of each slice of bread with a very thin layer of pesto.
Add a thin slice of mozzarella or sprinkle on a thin layer of shredded cheese.
Cover the cheese with tomato slices, then basil leaves.
Add another slice of mozzarella or shredded cheese.
Top with a slice of bread (pesto side in).
Butter the outside of the sandwiches lightly.
Preheat a skillet pan coated with cooking spray over medium heat.
Turn the heat down to medium low and carefully place the little sandwiches in the pan. Cover and cook for a few minutes, then check to see if the bottom side is golden brown yet. Carefully flip the sandwiches to toast the other side, then cover and cook until the other side  is golden brown.
Serve immediately and revel in the deliciousness.
Can you tell which tomato piece is the home-grown one and which one came from the store?
(And yeah, I know … it's so definitely time to ditch the purple nail polish.)
This recipe was shared at Sweet & Simple Sundays, Tastetastic Thursdays, Moosewood Monday and Newlyweds Recipe Linky.
---
From the Full Belly Sisters
The truth is, ever since I saw this green grilled cheese sandwich from Full Belly Sisters, I wanted it … bad. But circumstances did not avail themselves to fulfilling my desires … until tonight.
My daughter was out with her dad. My son was busy with his game downstairs. I was pretty much left alone for the evening … and it was a gorgeous spring night … perfect for a light dinner and a glass of wine on the patio, and then a walk in the forest.
And since I had some luscious green creamy paste left from the little green toasts that I had for lunch, I looked up the recipe and noticed mine wasn't too far from the mark. All I needed was a little cheese. I didn't have any gouda on hand, so I used havarti. That did the trick.
My sandwiches were little because my bread is just a small baguette … and so I served my mini-grilled cheese sandwiches (to myself) with a glass of my dad's wine and a little dish of honeydew melon (keeping with the "green" theme …) … oh it was SO good!
I am going to send you over there for the recipe. Really, mine wasn't much different than hers. I added some garlic. And a little parmesan and shredded Havarti cheese in place of the Gouda.
This is really a grilled cheese sandwich experience you don't want to miss. Look at all that gooey green deliciousness.
---